Our experienced teams, clear strategy, premium brands, efficient supply chain and global distribution focus on delivering long-term value to our shareholders, outstanding products and service to our customers, and rewarding careers for our people.
Business model
Structure for long-term growth and value creation

Clear strategy
Our strategy is focused on delivering long-term growth and margin improvement. We consider how key strategic decisions will impact our stakeholders and the environment.
---
Our structure
Our structure is simple and lean with only two layers - Group and Divisions. This enables focused decision-making and allows us to react quickly to customer, market and technological changes. Our three Divisions focus on the different needs of our customer segments. They are decentralised and entrepreneurial but work with a global mindset in specific areas, where it makes sense to share our capabilities to benefit our stakeholders.
---
Robust Group governance
At Group level, we create value by setting and monitoring strategic plans, budgets and forecasts, managing treasury and tax, health and safety, and assessing risk. The team ensures that robust goverance framework, policies and procedures are in place to ensure a strong culture and ethical behaviour, as well as managing acquisitions and disposals, corporate reporting and investor relations.
---
People, communities and culture
We work across the Group to ensure that we have consistent policies and processes in place to acquire, engage and retain our best talent. We focus on supporting the communities we operate in and further reducing our impact on the environment.
---
Section 172
Under the 2018 UK Corporate Governance Code and The Companies (Miscellaneous Reporting) Regulations 2018 there is a requirement for the Board to understand the views of the Company's key stakeholders and to describe how those interests and the matters set out in Section 172 of the Companies Act 2006 have been considered in Board discussions and decision-making. Section 172 imposes a duty on a director to act in a way that he or she considers, in good faith, to be most likely to promote the success of the Company for the benefit of its members as a whole.
How we create value:
Innovative product developmentplus
Intelligent and sustained investment in new products, technologies, markets and people enables us to ensure that our brands remain at the forefront of the industry, renowned for their premium offerings and innovative technology.
We continually obtain feedback on market trends, competitors and their products, from customers, as well as from research.
Our experienced, specialist engineers apply new technologies and materials to develop high-quality, high-performance solutions. Videndum takes product quality and customer safety very seriously and our products are manufactured to the highest standards and rigorously tested. We are integrating sustainable product development into our brand strategies using a "cradle-to-grave" Product Life Cycle Assessment ("PLCA"). This includes evaluating raw materials, manufacturing processes, waste, packaging, distribution and end-of-life.
Our innovative products are protected by patents and trademarks, and are marketed under our world-renowned brands.
We manufacture the majority of our products in-house and work with selected, market-leading partners for specialist solutions. We supplement in-house new product development with carefully selected acquisitions or partnerships in new markets and technologies.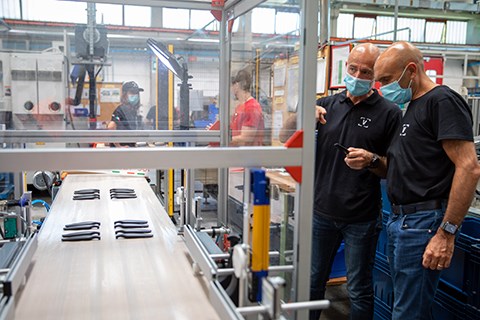 Sourcing and manufacturing excellence plus
Sourcing and manufacturing excellence is one of Videndum's core competitive strengths. Our three major manufacturing sites in the UK, Italy and Costa Rica are certified ISO 9001 Quality Management, ISO 14001 Environmental Management and ISO 45001 health and safety.
Our supply chain is efficient, our people highly trained and multi-skilled. We procure materials from reputable suppliers, and make our products in efficient and environmentally-friendly operations and, where appropriate, manufacture or source from lower-cost countries such as Costa Rica. Where economically and technically feasible, we insource production, especially when our sites have stronger environmentally credentials than those of our finished goods suppliers. This helps to improve the Group's overall carbon footprint.
The majority of our operations are relatively low-volume, small-batch processes and our continuous improvement culture enables us to optimise our global operations and implement lean manufacturing and automation to maximise quality, service and efficiency, while reducing costs. Most of our factories are vertically integrated which means we produce many of our components in-house. The 2022 acquisition of Audix expanded our manufacturing footprint in the USA which is a key enabler of our audio strategy. We operate a Group Global Sourcing Office in Shenzhen, China where the team supports vendor management, quality control and product development with strategic vendors across APAC. This further enhances productivity and time to market.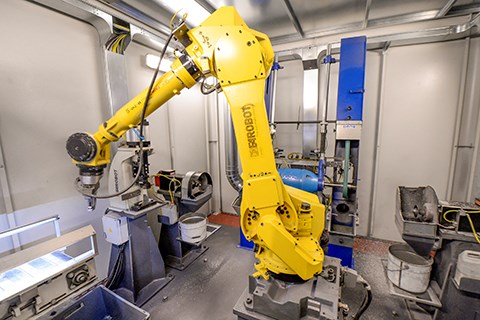 Global distributionplus
We market and sell our products globally via multiple distribution channels, our own sales teams, and through e-commerce via our own and third-party websites.
The majority of our sales are conducted via a global network of distributors, dealers, retailers and e-tailers who sell on to customers. The breadth of our product portfolio and our strong brand heritage mean that our network of channel partners is unrivalled in the markets we serve.
We continue to expand our growing digital and e-commerce capabilities, working closely with our customers and suppliers to further develop our online presence.
Our Media Solutions Division has best-in-industry digital capabilities which provide a long-term, scalable competitive advantage, both in terms of customer ownership (via a Customer Relationship Management System ("CRM") across multiple brands) and because our competitors are unable to match our content production and global customer service capacity across multiple product categories.
We engage with a number of leading logistics partners to ensure responsive and timely delivery of our products to the relevant geography, and remain conscious of the impact of our distribution channels on the environment.