We have developed a focused and coordinated Group-wide approach to ESG.
Our strategy includes clear objectives and targets across all areas, prioritising actions that are going to deliver the greatest impact. We are also collecting detailed data in order to comprehensively, clearly and consistently report our progress and credentials to our stakeholders.
line
Our ESG strategy
We have identified the material issues that affect our business and our stakeholders.
Our ESG strategy is tailored to address our key areas of impact and those of our industry, as well as meeting the priorities of our stakeholders. It is also designed to positively contribute to the success of the Company, to reduce the impact of the business on the environment, to continue to prioritise the health and safety of our employees and to improve the diversity and inclusivity of our workplaces.
line
Our key focus areas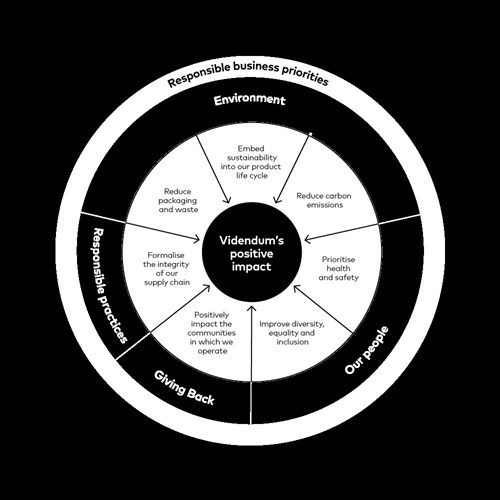 line
ESG frameworks that inform our strategy
Both mandatory and voluntary ESG disclosures have been considered in the creation of Videndum's ESG strategy, as follows.
The Streamlined Energy and Carbon Reporting ("SECR") requires Videndum to disclose its energy usage, associated emissions, energy efficiency actions and energy performance implemented by the Companies (Directors' Report) and Limited Liability Partnerships (Energy and Carbon Report) Regulations 2018. The details of this report can be found here.
The Energy Savings Opportunity Scheme ("ESOS") is a mandatory UK energy audit that Videndum must carry out every four years to assess the energy used by our UK buildings. The energy efficiency measures suggested in the most recent UK site surveys inform our carbon reduction milestones discussed here.
The Task Force on Climate-Related Financial Disclosures ("TCFD"), mandated by the Financial Conduct Authority ("FCA"), requires UK premium-listed companies to report on a "comply or explain" basis for periods beginning on or after 1 January 2022. A summary of Videndum's climate-related financial disclosures from the Group's standalone TCFD Report 2022 can be found here.
The Carbon Disclosure Project ("CDP") is an international voluntary disclosure focusing on environmental impact management, and we will submit our annual CDP Climate Response in summer 2022.
The Global Reporting Initiative ("GRI") is an international voluntary ESG reporting standards framework enabling organisations to report on their economic, environmental, social and governance performance. This Responsibility section of the Annual Report summarises Videndum's ESG progress which we will report on in accordance with the GRI guidance in our 2022 ESG Report.
We intend to align our net zero carbon strategy with the Science -Based Targets Initiative ("SBTi"), demonstrating our commitment to the UK's Nationally Determined Contribution ("NDC") 2020 under the Paris Agreement 2015 to limit global warming to 1.5°C. The NDC commits the UK to reducing economy-wide greenhouse gas emissions ("GHG") by at least 68% by 2030, compared to 1990 levels. Videndum's carbon reduction targets are detailed throughout this Responsibility section, and the Group's net zero pathway is laid out here.
line
How Videndum manages its ESG performance
The Videndum Board provides oversight and has overall responsibility for the Group's ESG performance. In response to the growing importance and increasing stakeholder interest in ESG, the Board established an ESG Committee to coordinate Videndum's ESG performance. The ESG Committee is chaired by the Group Chief Executive Stephen Bird and comprises senior executives representing the Group and each Division.
The Committee is mandated to meet the Board's growing ESG standards and ambitions, lead initiatives across the Group and ensure compliance with emerging regulations. The Committee meets at least once a quarter, reporting Divisional ESG progress and updates the Board on Videndum's ESG performance. A percentage of the Group Chief Executive's remuneration has been tied to the Group's ESG performance.
In 2022, the Board, ESG Committee and broader management identified and addressed material issues affecting business operations and Videndum's stakeholders. Clear objectives and targets were set across all critical areas following stakeholder feedback, and data collection measures were introduced to monitor and report progress.
line