Videndum continues to develop innovative new technology to improve customers' productivity by developing products which reduce set up time and lower operating costs. This is becoming increasingly important to customers and drives demand for new and replacement products. Sustained R&D investment is key to enabling Videndum's premium brands to maintain their already strong market positions and, in places, gain share. Gross R&D spend is targeted at c.5% of revenue.
The Group is focusing its future R&D investment in key strategic areas, including: the new generation of high-end wireless audio solutions; AI-driven broadcast studio automated tracking systems; groundbreaking technology for the new generation of Manfrotto supports; as well as technology innovations to refresh its supports for sports, outside broadcast and cine/scripted TV, and high-end solutions for Live Production.
While the Group remains focused on debt reduction and therefore no acquisitions are expected in the short-term, in the medium to long term the Group has a disciplined approach to capital allocation, including considering potential divestments as well as targeted bolt-on M&A activity where there are opportunities which could expand addressable markets and enhance technology capabilities.
Over the past decade, Videndum has increased its addressable markets by expanding its product portfolio, customer base and technology capabilities, through carefully selected acquisitions.
We completed one acquisition in 2022.
Audixplus
Based in Oregon, US, Audix designs, engineers and manufactures high performing, innovative microphones for the professional audio industry from its advanced manufacturing facility. Acquisition accelerates and further strengthens Videndum's audio capture strategy by bringing additional specialist R&D capabilities to enable the Group to design and build microphones in-house.
Strategic rationale for the acquisition
Videndum is focused on investing in businesses which are exposed to faster-growing areas of the content creation market, particularly in our Media Solutions Division, where growth is being driven by the need to photograph products to sell on the internet which, as a result, is increasing demand for professional studio photography. Market demand is also being driven by vloggers and influencers creating and sharing content on social media. Audio capture is an essential part of video creation as it enhances the quality of the content.
This is a strategically significant acquisition as Audix enables us to accelerate the pace of deployment of our audio capture strategy. It is attractive to Videndum because we know the market and the channel well, and our customers already buy microphones for their smartphones or cameras that we provide under our growing JOBY brand. Videndum has lacked a more specialist audio R&D capability to allow us to design and manufacture the microphones ourselves, which is what Audix brings. We intend to use their expertise to enhance the speed of new product development and expand our range of on-camera microphones further.
In addition, Audix expands the Group's TAM, bringing Videndum a premium microphone brand which is focused on the music, professional vocal and enterprise markets, and is complementary to our growing JOBY and Rycote brands. We estimate that 75% of Audix current revenue is in the US and they have no direct e-commerce capabilities. We expect to significantly grow the Audix brand by selling their products through our global distribution network and we will use our digital expertise to market and sell Audix products online. There are also opportunities to sell other Videndum brands to the Audix customer base.
The acquisition also gives the Group state-of-the-art, vertically integrated, audio manufacturing facilities in the US, which provides the opportunity for a number of synergies. We plan to move Rycote's microphone manufacturing and engineering development to Audix's facilities. We will also bring the development of our JOBY microphones to the US. This will accelerate our new product innovation process and enable us to extend our microphone range, as well as further strengthening our competitive advantage in the largest content creator market.
Audix will become part of Videndum's Media Solutions Division and the Audix team and the facility in Oregon will become Videndum's Audio R&D Centre of Excellence. The business has 33 permanent employees. The CEO and co-founder, Fred Bigeh, and CFO, Cindy Bigeh will join Videndum.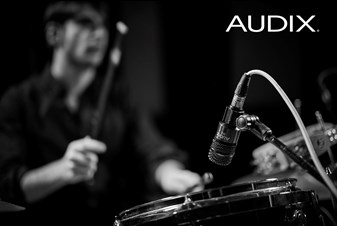 Back To Chosen markets