For a business like Videndum, intelligent and sustained investment in new markets, technologies, products and people enables us to retain our market-leading positions and create shareholder value in the future.
The content creation market is rapidly changing and we continue to identify and make appropriate, value-adding acquisitions to supplement our organic activities and enable us to benefit from those changes.
Our unique heritage, experienced people and the credibility of our established, premium brands allow us to find attractive, high quality businesses in our core or adjacent markets, technologies and geographies to achieve our growth objectives.
We have completed three acquisitions in 2021 and one acquisition in 2022.
Quasar Scienceplus
Based in Los Angeles, Quasar Science products are used in professional, large-scale film and scripted TV production as well as small scale new media markets and are highly sought after for their industry leading colour quality and versatility. The products are highly complementary to Videndum's existing Litepanels brand and there are growth opportunities to sell them through Videndum's global sales and distribution network as well as using Quasar Science's expertise and network to grow our Litepanels brand in the cine market.
The acquisition is driven by Videndum's strategy to expand our higher technology capabilities in strategic growth markets. When production sets reopen fully, we expect original content creation to grow dramatically, driving demand for LED lighting.
Quasar Science will become part of Videndum's Production Solutions Division. The business has 18 employees, the majority of whom work in sales, R&D and product design and development in Los Angeles. The four cofounders will also work with Videndum.

Lightstreamplus
Lightstream is a US-based technology company that provides a cloud-based video production and editing Software-as-a-Service ("SaaS") platform to enable content creators to enrich their live video streams. Lightstream is a world leader in live streaming technology for the fast-growing gaming market and has strong strategic partnerships and technology integrations with the leading streaming and gaming platforms, including with Microsoft's Xbox and Amazon's Twitch. Lightstream will become part of Videndum's Creative Solutions Division. The business has 22 employees, the majority of whom are highly skilled software engineers. The four co-founders, including the CEO Stu Grubbs, will also work with Videndum.
This acquisition is driven by Videndum's long-standing strategy to increase our higher technology capabilities and expand our addressable markets. Live streaming across all industries has grown exponentially during the pandemic and it has become a significant growth opportunity for the Group with our Teradek brand. The gaming market is a logical extension to our live streaming strategy; it has an estimated 13 million content creators and more than two billion viewer hours per month. Of the 13 million, management estimates c.300,000 currently pay monthly subscriptions to gaming-based streaming services, and that revenue generated from these gamers has grown at c.100% CAGR in recent years.
Lightstream brings leading technology and highly skilled software engineers as well as a subscription based business model. The technology and brand are established and well-respected, and subscriptions have grown by c.11% each month year to date. As of 31 March 2021, Lightstream had over 16,000 paying subscribers. Of these, around 90% are gamers and the other 10% are content creators using Lightstream technology for non-gaming video applications. Sales to date have been predominately driven by word of mouth. We plan to use Videndum's extensive digital marketing capabilities to grow Lightstream's customer base in the major global gaming markets.
Creative Solutions' current Teradek cloud-based live streaming software is focused on distributing video content; Lightstream's software is focused on producing and editing the video content. We believe that combining Teradek's leading video encoding and cloud distribution capabilities with the Lightstream cloud editing platform will greatly improve the experience of both the gamer and the viewer, leading to further growth in demand. We also plan to apply Lightstream's technology to our enterprise customer base.
In addition, the acquisition opens up growth opportunities to sell Lightstream's software into Videndum's growing JOBY vlogger and social media influencer customer base, and to bundle Lightstream subscriptions and Videndum hardware accessories for gamers.

Savageplus
Based in Phoenix, US, Savage is a global market leader in backgrounds for the professional studio photographic market. Trusted by creative professionals, Savage manufactures an extensive range of high quality, specialist, seamless paper backgrounds, or backdrops. Backgrounds are a key aspect of imaging production as they are the quickest and easiest way to achieve the desired look for commercial and product photography, portraits, video interviews and social media posts, and they dramatically reduce post-production time. Despite advances in technology, we believe that backgrounds will remain the preferred solution for the foreseeable future.
We know the market and the Savage business extremely well; Videndum's existing Media Solutions professional studio photography customers already buy backgrounds and these will be found alongside many of the Group's brands in most photographic studios and rental houses. c.65% of Savage's current revenue is in the US, where they sell direct to retail and c.35% is sold internationally to distributors, with c.40% of that business being distributed in continental Europe and the UK by Videndum Media Solutions under our Colorama brand.
Savage will become part of Videndum's Media Solutions Division. The business has 85 permanent employees. The COO Rich Reiser will join Videndum while the Chairman and CEO will leave the business at closing of the transaction.
Strategic rationale for the acquisition
A key part of Videndum's strategy is to continue to look for businesses which are exposed to faster-growing segments of the content creation market, particularly in Media, where, post-pandemic, we have seen growth in vlogging and influencing, and also in professional photographic studios which are exposed to growth from the internet. Savage fits this strategy:
It is exposed to the growing area of professional studio photography, which is driven particularly by the global growth in demand for digital content and in retail e-commerce, where new products must be frequently photographed or videoed to quickly put fresh content online.
There is the opportunity to sell Savage products to the fast-growing professional influencer and vlogger segment where we estimate that there are more than 40 million vloggers, with a following of over 1,000 people, who share and monetise their content on social media. JOBY is a market leader in this huge untapped market and JOBY revenue in FY 2021 is on track to be c.50% up on 2019.
This is the first company purely focused on consumables that the Group has acquired for some time and it is the largest consumables product in the professional studio photographic market. Backgrounds are bought on a weekly or monthly basis and the acquisition gives Videndum the opportunity to have more frequent contact with our customers, as well as giving the Group more of a regular repeat purchase revenue stream.
Videndum knows the market and the Savage business well and is therefore well positioned to drive commercial synergies and growth. We will expand their distribution internationally, especially in APAC, and we will use our digital expertise to market and sell Savage products online.

Audixplus
Based in Oregon, US, Audix designs, engineers and manufactures high performing, innovative microphones for the professional audio industry from its advanced manufacturing facility. Acquisition accelerates and further strengthens Videndum's audio capture strategy by bringing additional specialist R&D capabilities to enable the Group to design and build microphones in-house.
Strategic rationale for the acquisition
Videndum is focused on investing in businesses which are exposed to faster-growing areas of the content creation market, particularly in our Media Solutions Division, where growth is being driven by the need to photograph products to sell on the internet which, as a result, is increasing demand for professional studio photography. Market demand is also being driven by vloggers and influencers creating and sharing content on social media. Audio capture is an essential part of video creation as it enhances the quality of the content.
This is a strategically significant acquisition as Audix enables us to accelerate the pace of deployment of our audio capture strategy. It is attractive to Videndum because we know the market and the channel well, and our customers already buy microphones for their smartphones or cameras that we provide under our growing JOBY brand. Videndum has lacked a more specialist audio R&D capability to allow us to design and manufacture the microphones ourselves, which is what Audix brings. We intend to use their expertise to enhance the speed of new product development and expand our range of on-camera microphones further.
In addition, Audix expands the Group's TAM, bringing Videndum a premium microphone brand which is focused on the music, professional vocal and enterprise markets, and is complementary to our growing JOBY and Rycote brands. We estimate that 75% of Audix current revenue is in the US and they have no direct e-commerce capabilities. We expect to significantly grow the Audix brand by selling their products through our global distribution network and we will use our digital expertise to market and sell Audix products online. There are also opportunities to sell other Videndum brands to the Audix customer base.
The acquisition also gives the Group state-of-the-art, vertically integrated, audio manufacturing facilities in the US, which provides the opportunity for a number of synergies. We plan to move Rycote's microphone manufacturing and engineering development to Audix's facilities. We will also bring the development of our JOBY microphones to the US. This will accelerate our new product innovation process and enable us to extend our microphone range, as well as further strengthening our competitive advantage in the largest content creator market.
Audix will become part of Videndum's Media Solutions Division and the Audix team and the facility in Oregon will become Videndum's Audio R&D Centre of Excellence. The business has 33 permanent employees. The CEO and co-founder, Fred Bigeh, and CFO, Cindy Bigeh will join Videndum.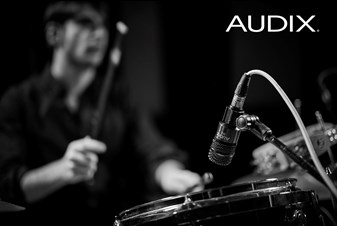 Back To Chosen markets